The Dark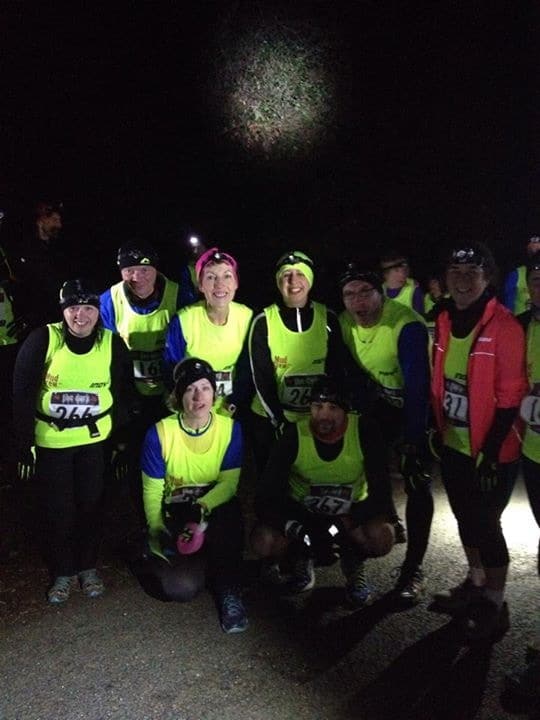 Fourteen Carnies go out in The Dark ……
Saturday saw the long awaited inaugural Mudcrew headtorch race, The Dark. It was a half marathon distance on the bike trails at Cardinham Woods, specially closed to mountain bikers for the night, twice round the extremely uppy, downy, twisty, turny course. We had been preparing for this race all through the winter with regular forays into Tehidy Woods, Illogan Woods, Penrose and the Great Flat Lode amongst other nice and dark routes, to practice our offroad running in dark creepy places. I had cycled the course a couple of times and I thought it was going to be fairly hard to run it – it was!!
The Carnie contingent consisted of Mark D, Mark V, Jason V, Gary & Kim, Janna, Sarah C, Ali G, Ali C, Lisa, Caz, Wendy and me and My Andy. We turned up nice and early to register, don our compulsory luminous yellow vest and generally prepare whilst trying not to blind each other with our headtorches. After a last visit to the loo we were asked to make our way to the start line and got there nice and early ending up in the Cornwall AC preferred position ie right at the front!! As there were around 250 runners lined up a few of us thought it better to move back slightly, so as not to be trampled in the rush!!
We set off up a fairly wide track so that the runners could sort themselves into some sort of order before the single track. There was a stream crossing in the first quarter of a mile, we would expect nothing less from Mudcrew who like their competitors to have wet feet at all times!! We went back along through the start area past all the spectators and up a long climb after which it was onto the single track. A few of us had paired off and I was running with Ali C. We agreed to stay together as we didn't want to be alone in the dark, although this wasn't difficult as we were fairly evenly paced, me going first up the hills and Ali gambolling first down hill. Once onto the trails it was only wide enough for one runner so we made our way in a long stream of runners, headtorches bobbing around and lots of ooing and aahing from me as we swooped around the bendy bits!! At one point we came to a big uphill section with lots of switchbacks and it was a fantastic sight to see all the headtorches both in front, and to our surprise behind us.
The miles rapidly went by on the first lap, it somehow seems less far in the dark, although it was extremely tough going with hardly any flat bits, it was either uphill or down at all times!! Some parts of the woods were quite cold too, with a creepy mist lingering around!! Mudcrew had also laid on a few surprises in the woods with drama students enacting various scenarios. I must've been fairly gullible as I took some persuading they weren't for real, especially the girl hyperventilating on one corner, I nearly stopped to see if she was ok, until Ali dragged me away!! Before we knew it we had gone through the stream crossing again and reached the half way point in 1.26 which was lucky for us as our aim was not be lapped, the winner was obviously breathing down our necks as he finished in 1.33.39, with the first lady coming in 1.55.42 – brilliant running!
The second lap was rather more painful than the first and a lot more lonely. The field had spread out and we hardly saw any other runners from 8 miles onwards. The constant gradient changes were playing havoc with our legs and as we counted down the last few miles the end couldn't come soon enough. After overtaking a lone guy who was struggling we came to the stream crossing for the third time and then it was a short run to the end where all the other Carnies were waiting to cheer us in. Mission accomplished, a half marathon in the dark and a tough run under our belts.
Some of the Carnies had a storming run although there were also a few casualties with Mark W, Gary and Caz taking tumbles on the uneven ground. Mark Dorrell did well to finish 12th overall with Mark W and Jason just over 10 minutes behind him. Next in was Janna around 3 minutes later, followed by My Andy and Gary. Next up was Sarah followed by Kim and Lisa and Ali G. Ali's time was a bit deceptive as she added on an extra mile by going slightly off piste. I think she did well over 14 miles and the problem seemed to be she followed some MEN who are notoriously bad at navigating and took a wrong track, having to retrace and get back on course. Ali C and I were next and we were fairly pleased with our run, we certainly tried hard and our legs are still complaining 2 days later!! Wendy was the heroine of the hour as she carried on and did the 2nd lap alone after Caz had to retire injured. There had been plenty of people behind Wendy and Caz but as they all dropped out Wendy became the back marker. She was very brave to venture into the woods on her own, to be stalked by the sweeper who had to run and find her after everyone else finished at half way!!!
The race was very well organised and marshalled, very friendly marshalls at strategic places and the legendary Mudcrew hospitality was available at the end. There was a lovely yurt with wood burner, lots of beer and food and a fantastic ambience. I can definitely recommend this race to anyone who fancies something a little bit different than a boring old tarmac road run. You can look the results up on the Mudcrew website but they don't bear any resemblance to any half marathon that's gone before!!!!!
Laura
For Results Click Here