Bocconoc 2014 – Race Report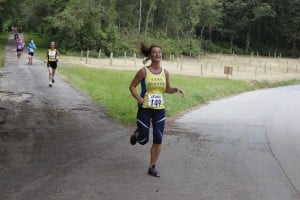 In order to complete this year's shortened  Multi terrain series, Craig and I took the long trip to Boconnoc for the final event in the series together with a new member, Jules Lewis. Thanks to the sat nav we managed to arrive on time, having driven over half the course in the process (bearing in mind this is an off road event), we also managed to drive through the finish line just as the fun run was coming to a finish!
The race is a tough 5 miles which starts easy enough with a fast downhill which then turns into a long 2 mile uphill drag. Craig came past me at about the 3 mile marker and slowly pulled away. I knew that in order to maintain my position in the overall tables I had to finish no more than 4 places behind him.
The next 1.5 miles was all off road but mostly downhill and I was hanging in 3 places behind. Then came a steep 200m climb before the final downhill to the finish. At this point I lost another couple of places but just managed to recover enough to gain 1 place back. Craig had finished by now and I wasn't sure if he'd managed to catch anyone else but fortunately for me, we had finished 4 places apart. This meant on the overall points table we both had exactly the same number of points and finished 2nd and 3rd overall in the series, winning our age categories.
Sarah Clemence was our first lady home, also completing the series and finishing 12th overall and coming 2nd in her age category.
The Carn contingent was completed by Barry Drew followed by Judy Jameson.
Unfortunately, we weren't able to field a men's team which meant that we missed out on the probability of 2nd overall in this competition ( heap on the guilt- you know who you are!)
So overall a successful series. It will be interesting to see how the longer series over 10 events goes.
Mark Dorrell
[wpdm_file id=62]