Race Report – Tywardreath Trotter (26 July 2014)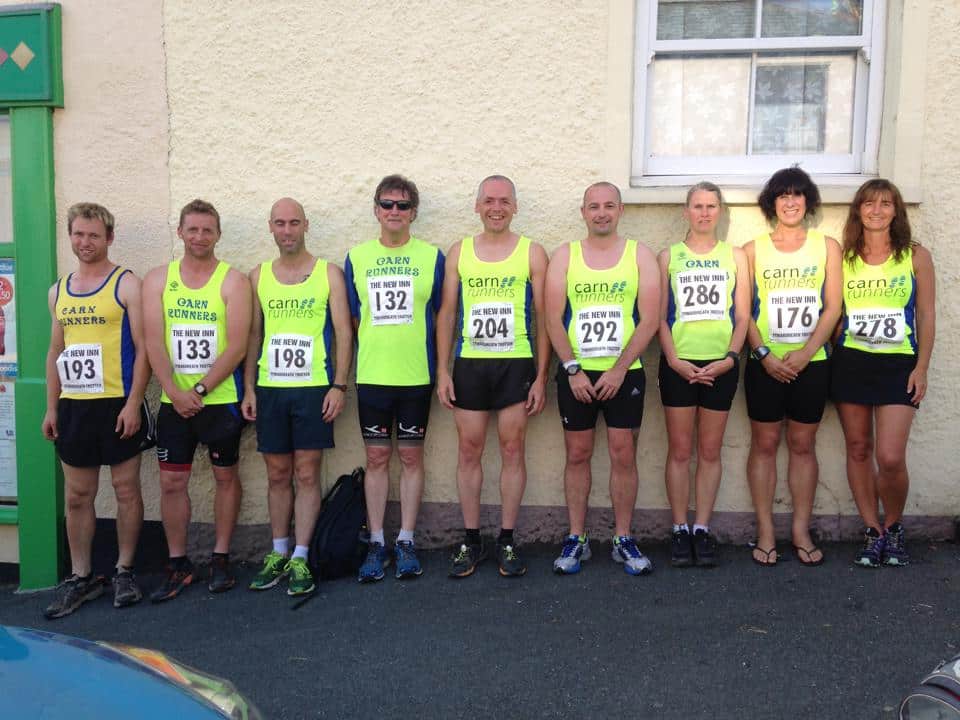 Having previously complained about traveling to Sticker for a five mile road race, I somehow found myself driving straight past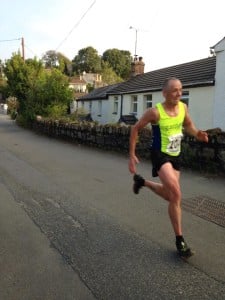 Sticker to a little village perched on the side of a hill overlooking Par, for a seven mile trail race! Maybe it was excitement about wearing the Carn Runners vest for the first time, or kicking off a new season of multi-terrain races, or maybe it was just temporary insanity. Whatever is was, any enthusiasm was short-lived, lasting only until I drove up the ridiculously steep hill to the village and realised what Tywardreath means by 'undulating'. The locals' description of the 1/2 mile detour round a little housing estate being to thin the runners out enough to fit through a 5' tunnel probably didn't help either…
Anyway, after the obligatory team photo, still feeling slightly self-conscious in bright yellow, we lined up in the still very hot sun and eventually got under way. Much like 'Meet Your Max', I'd been advised to press on through the first mile, before getting stuck in single lane 'traffic' along the river bank, so that's what I tried to do, and ended up tussling with Ian Matthews (Mounts Bay) over the next few miles, with him passing me on the hills, and me edging past on the way down. Unfortunately there was one hill too many and I eventually lost sight of him, along with Jason, whose bright yellow vest had been a dot on my horizon for much of the race. The last hill was very reminiscent of Kehelland and I was very glad to have practiced it on Wednesday — I'll be generous and put that down to inspired route-setting, or do all club runs finish up Kehelland Hill?!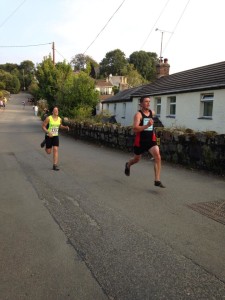 I was also told that if you were close to someone at the finish, but could squeeze ahead of them before the final set of steps, you'd easily stay ahead of them on the downhill sprint to the finish. Well, I've never been a sprinter, so that turned out not to be true, and I was pipped at the line by someone who had a bit more left in his legs from all the hills. The throng of spectators at the finish, apparently the whole village, many with cow bells rattling furiously, was more than enough to lift the spirits though, not to mention the 'high fives' from many of the 200 or so youngsters who'd taken part in the 1 mile fun run before the race.
Like most Cornish races, everything was extremely well organised, with goodie bags being handed out at registration. Great t-shirt, but I was a bit surprised to find a can of beer and bar of chocolate being handed out at a running race. Mind you, I suppose one of the reasons we run is to be able to treat ourselves now and then! I certainly enjoyed a guilt-free fish and chips, until I was politely asked to leave the New Inn for breaching food hygiene rules…..
I managed to get back in for the prize-giving though, to see Janne Eyre's prize for third lady being collected by Craig Hall, who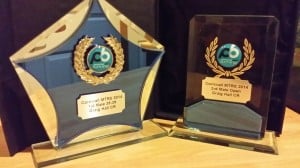 ended up collecting several prizes, mainly for his and Mark Dorrell's efforts in the 'mini' multi-terrain series that finished with Boconnoc a few weeks ago. Mark was second in the 'Open' series, and first in his age group. Tied for points with Mark, but third in the 'Open' was Craig, who also won his age group. Sadly, the engraver for Craig's trophies had misread his name, so he will forever be known as 'Graig Hall'!
I'd definitely recommend the race, despite the hills, and next year will be the tenth edition, so there will probably be an even bigger turn-out by the village, if that's even possible! I'd also recommend the trail-running series – don't worry if you missed this race, the full series is ten races in all, and you only have to run in six to 'complete' the series. Details of all the races in the new series can be found HERE
Jules Lewis