Post Storm Force!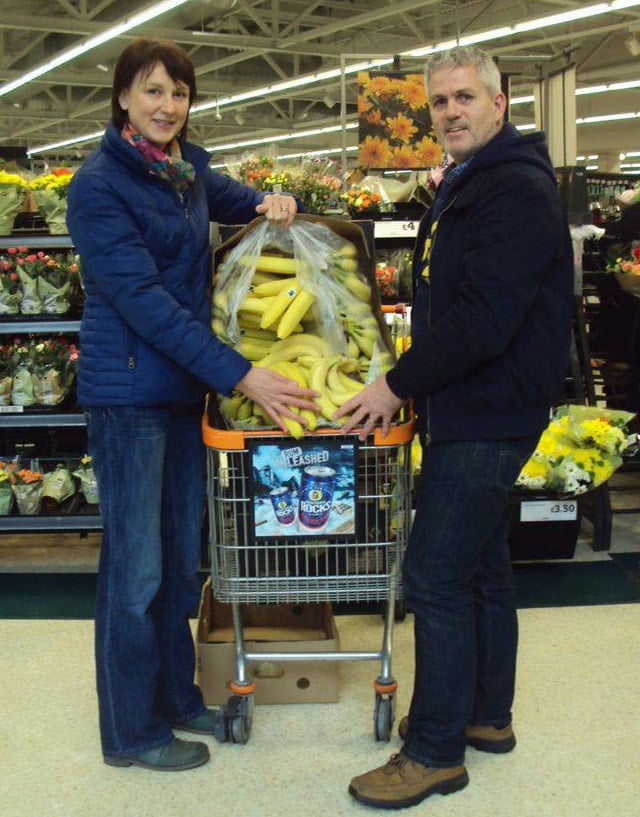 Official photo's can be found HERE from Charles Whitton Photography.
Some emails from runners
Hi
 I took part in the Storm Force 10 race yesterday and would just like to congratulate you for putting on such a fabulous event. Everyone was so friendly and helpful, the facilities were excellent and the amazing array of cakes & sandwiches, not to mention the brilliant idea of free soup (just what the Dr ordered!) afterwards were very welcome. The race itself was very well marshalled and I found the slightly undulating course to be scenic and just challenging enough.
 It is the first time I have done the race but it will definitely be one I look to do again in the future and I will have no hesitation in recommending it to my fellow runners at Plymouth Harriers.
 Wishing you much success in 2016.
 Best Wishes…..Jill Anderson (Plymouth Harriers)
Dear Carn Runners
On behalf of myself and the Plymouth Harriers a massive thank you for today's event especially to the wonderful marshals out there supporting us all. Please could you thank them all on your next club night from us few that ran from our club.
We will return next year!
Penny Hadfield-Bennett 
Chair lady Plymouth Harriers
I'm not a club runner but have
run many local half marathons and it was the first time my partner and I had run the Storm Force 10 and just wanted to say how much we enjoyed it.
Sorry – we were entries on the day! It was so well organised  throughout and the best part was the cakey tea afterwards.
 Alison
Hi Caz
Moorhaven would like to thank you for going the extra mile, picking up Jason from the hospital and dropping him back to his car.
David Hatch
Chairman
Hi Caz and all Carnies!
I just wanted to say that although the event was a touch on the 'stormy' side thankfully the weather wasn't!!
You can't control the weather but you, as a club, dealt with matters both before (route change plus high number late entries) and during the race most professionally and did absolutely everything you could possibly do at the time to ease several unforeseen occurrences.
Well done to everyone involved!
I'd also like to mention how absolutely fab the hot and cold refreshments were and very much appreciated by us all.
I, and many other Harriers really love the slate coaster as part of goodie bag and request more for forthcoming years in order to gain a 'set' of at least 4!!
See you all soon
Kind regards
Revis Crowle (ECH)
Marie and Stuart Moore with the six boxes of bananas from Sainsbury's.  I hope the bananas helped to restore the runners' energy levels.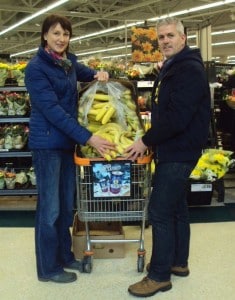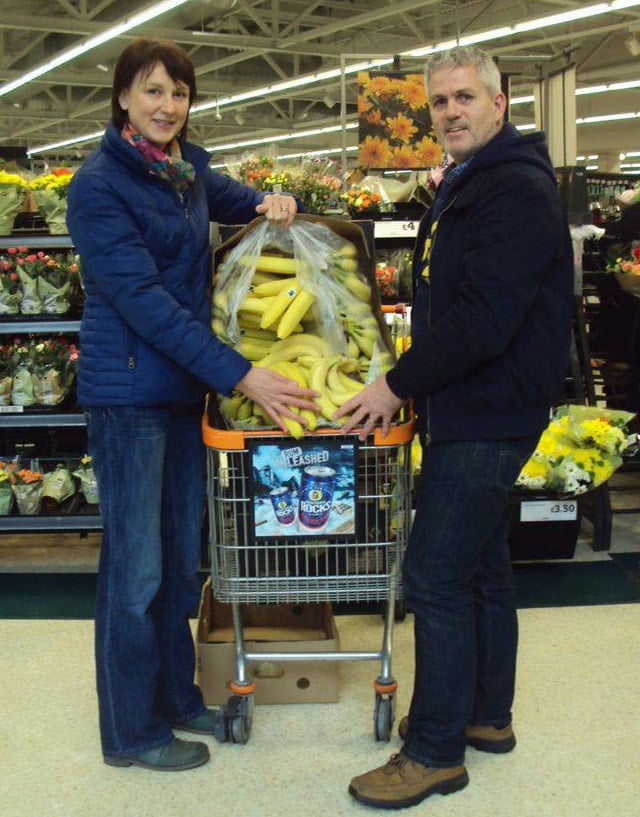 Best regards
Jean Main-Reade
Storm Force Results can be found HERE