DAN Series
Dan Series and Results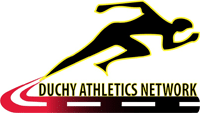 Here is an opportunity to do some summer running on the track in a relaxed and fun way.
The series will comprise of four events held alternately at Carn Brea and Par tracks and will cover a range of distances and formats that will suit both experienced and beginner runners alike.
The DAN Summer Run Series is open to all over the age of 13 with an emphasis on inclusion for all runners regardless of ability. All the races will be undertaken with a relaxed format and the mixed relay events will add a further element of fun with teams of 2 male and 2 female runners competing over 1mile (4laps) each.
The events will be held on evenings from May to August and organised and managed in co-operation by Athletics and Running Clubs of the Duchy Athletics Network.
Dan Series 2019
| Race | Date | Results |
| --- | --- | --- |
| 5000m Race including County Champs (CBLC) | 23rd May 2019 | Download |
| 10000m Race including County Champs (Par) | 24th July 2019 | |
| 3000m Race 1 including County Champs (Par) | 21st August 2019 | |
| | | |
Dan Series 2018
| Race | Date | Results |
| --- | --- | --- |
| 5000m Race |  25th May 2017 (Carn Brea) | Download |
| Mixed Relays | | Download |
| 10000m Race |  26th July 2016 (Par) | Download |
| 3000m Race |  23rd August 2016 (Par) | Download |
Dan Series 2017
| Race | Date | Results |
| --- | --- | --- |
| 5000m Race |  25th May 2017 (Carn Brea) | Download |
| Mixed Relays | | Download |
| 10000m Race |  26th July 2016 (Par) | Download |
| 3000m Race |  23rd August 2016 (Par) | Download |
Dan Series 2016
| Race | Date | Results |
| --- | --- | --- |
| 3000m Race |  26th May 2016 (Carn Brea) | Download |
| 5000m Race |  26th July 2016 (Par) | Download |
| 10000m Race |  25th August 2016 (Carn Brea) | Download |
| 100m, 400m, 1500m Races |  27th Sept 2016 (Par) | |
Dan Series 2015
Dan Series 2014