Janna's Adventure at Dartmoor Highground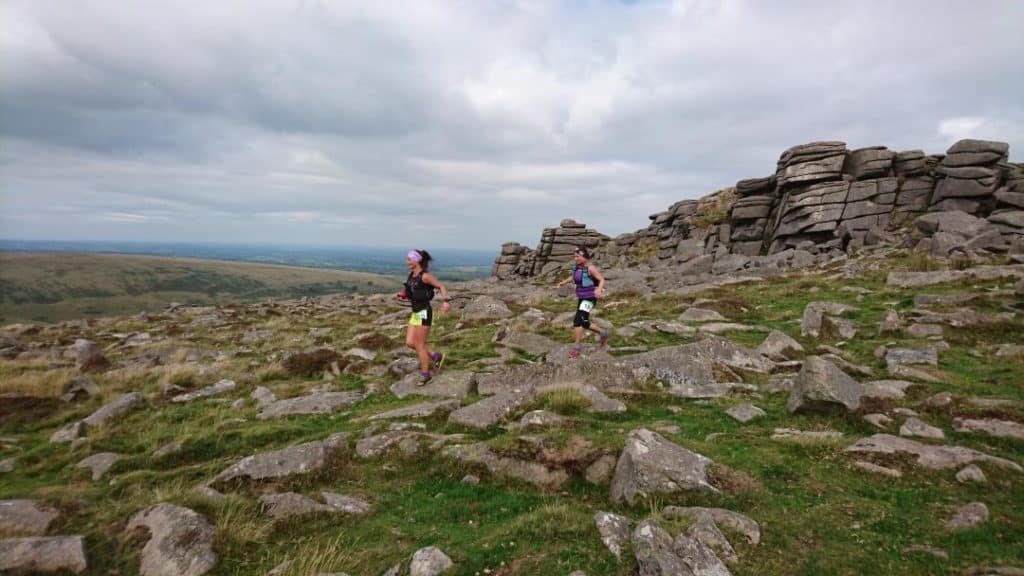 The Dartmoor Highground, a Freedom Racing event, took place on Saturday the 1st of September.  There's a choice of distances ranging from the Yes Tor Hill Race (10 mile race – 5 miles up to Yes Tor, 5 miles back down!), Dartmoor Marathon and the Dartmoor 50.  Travelling up on the Friday afternoon with Laura and co, who were volunteering for the weekend, meant I had plenty of time (for a change) to set up camp and make most of the race HQ.  HQ was at the OCRA Pavilions and the camping was right next to the start/finish and the clubhouse.  The changing/shower facilities were good and the onsite cafe and bar even better! 
I slept well in my tent apart from waking up with a fright at 1am as I'd dreamt I'd slept through my alarm. 4.50am came round and after breakfast and a cuppa I made my way to the briefing where I met with my usual ultra running partner in crime Sarah Clemence.  We'd been issued a map at registration and Tom highlighted a few noteworthy parts which I promptly forgot but luckily the route was exactly as it said on the tin…extremely well marked throughout with orange flags! 
The route itself is a 50 mile mix of trail and open hillsides/moorland with a couple of stream crossings thrown in for good measure.  The first 8 miles to Checkpoint 1 took us through a wooded area by a river and up the first climbs in the form of Rowtor and the formidable Yes Tor.  Checkpoint 1 was literally a welcome relief (there was a portaloo) and we were welcomed by lovely marshals and could access our drop bags if needed.    We then headed out on the eastern loop taking in Oke Tor, Okement Hill, Hangingstone Hill, Little Hound Tor, Cosdon Beacon (where we were joined by Sarah's husband Eugene who was mountain biking parts of the route to give us moral support) and Belstone Tor  to Checkpoint 2 (formally checkpoint 1) at 23 miles for more of Sues lovely roast potatoes and a quick rummage through my drop bag for supplies. 
We then started the next section known as the Western loop taking in more big ascents such as Kitty Tor toward the 3rd Checkpoint where Carnie Paul Elliot and his daughters were marshalling.  We just had a brief pit stop here as we still had about 18 miles to go and some boggy rough terrain to battle through as we headed out onto the Central section of the route.  Along Branscombe Loaf we could just about make out Eugene across the valley on Black Tor which spurred us on and before long we were enjoying a lovely long descent toward Meldon Reservoir and Checkpoint 4.  Again we didn't stop for too long as we were determined to finish in daylight so after shovelling some peanuts and fig rolls in my gob like a deranged hamster we were off…up another massive climb! 
I should probably mention that in return for the big old climbs of this race you are rewarded with stunning views and some very fun descents (although the downhill sections weren't quite so fun after 40 odd miles).  Once we got back to the top of Yes Tor we knew we were on the home (downward) straight and were greeted by Eugene and my partner Trev with Daisy the dog.  This was the final boost we needed and after a brief stop off at Checkpoint 5 we ran/trotted the remaining 4 miles retracing our steps from the morning back to the campsite and finish.  It was approaching dusk as we headed into the woods and we had to admit defeat in this section, digging out our head torches (after I tripped over a tree root and narrowly avoided embedding myself in a holly bush).  We emerged from the woods onto the rugby field like a couple of extras from a Zombie movie, adjusting to the last of the daylight we ran round the perimeter to the finish, a mere 14hours and 31minutes since we'd left! Fellow finishers from the different races were gathered at the finish line socialising which created great atmosphere although I was more interested in eating than drinking at this point so we ate in the cafe still in our stinking running gear! 
Dartmoor 50 was the most fun I've had on an ultra for ages (after a stinker at the Serpents Trail – 100k of lovely trails…during the hottest weather of the Summer!) and would thoroughly recommend a mass Carnie outing at this event in the future as there's a distance for everyone!