Killerton Half Marathon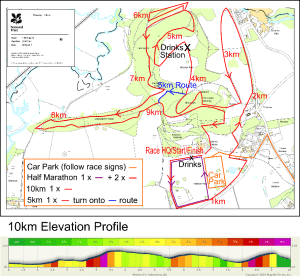 With a trip planned to East Devon to pick up a couple of beehives this weekend, I decided to combine the journey with what was described as a "scenic half" at Killerton House organised by Relish Running.
The morning was very pleasant, sunny with little wind as I lined up at the start. The first mile seemed very relaxed around a flat field but then came the hills – non stop for the next 5 and half miles, all off road, across fields and along muddy footpaths together with an almost vertical gulley to scramble up. I soon realised that my legs hadn't fully recovered from London but kept pushing along hoping that I might find something in the tank.
This was a two lap course so arriving back at the finish line for the first time meant only one thing – another 6 + miles of the same hills. I was starting to feel a little more comfortable on the shorter hills but was still reduced to walking some of the longer steeper stretches. I'd now managed to pull ahead of the 2 runners I'd spent most of the race with but 1 of them just wouldn't give up and kept reappearing on the downhill stretches. One final climb of 300 feet in little over half a mile at mile 12 finally saw him dropped and I was able to coast down the final descent to the finish line in 1 hour 39. 02 collecting 3rd place overall and 1st male 50+.
I think this has to be the hardest half I've ever done with 1900ft+ of climb but the bluebells and wild garlic were stunning!
And the bees – managed to get both hives back to Mullion without losing a single one although most of the journey home was spent nervously watching the boot in my rear view mirror.
Mark Dorrell